Long-sought animal welfare court set to open

Albuquerque cruelty cases more likely to be prosecuted, treated

by Teri Pierce

IT MAY SEEM nothing short of miraculous to those who have fought for the change for years, but it is quite likely that Albuquerque will have an Animal Welfare Court in place by mid-July—a specialized tribunal similar to DUI or Drug Court.
Animal advocates have long pointed to the problem of lax, inconsistent prosecution of animal cruelty in New Mexico, which has helped place the state consistently among the top five nationwide for lenience toward abusers, as rated by the Animal Legal Defense Fund.
Past efforts to create a specialized court that would bring more attention to animal abuse have died in the state Legislature. So it came as a surprise to many when two law school research papers suddenly set the ball in motion last year.
The papers by University of New Mexico law students Laura Castille and Amber Macias-Mayo came to the attention of former Chief Judge Julie Altwies of Bernalillo County Metropolitan Court, who suggested that the students put together a task force to look into creating such a court in Albuquerque. A number of sitting judges joined the effort: Rosemary Cosgrove-Aguilar of the Metropolitan Court, Brett Loveless and Debra Ramirez of New Mexico's 2nd District Court, and Marie Ward of Children Court.
After visiting a model animal welfare court in Tucson, Judge Cosgrove-Aguilar concluded that legislative approval would not be needed to create such a court in Albuquerque—and she even agreed to preside over the court herself.
What this means is that the judge, in addition to taking cases randomly assigned to her in Metro Court, will also hear animal cruelty cases transferred to her from other judges. Such transfers would not be mandatory, but they will usually be in the interest of the defense, since they allow for options besides fines and jail time.
Advocates say a specialized court is likely to lead to more abuse cases being pursued and prosecuted. Currently, it is animal control officers, rather than city or county attorneys, who decide whether to press charges in animal cruelty cases—unless they proceed to trial and a prosecuting attorney gets involved.
Animal control's main function is to educate the public on standards of animal care, and it is only when abuse becomes severe that officers must consider whether to press charges. Too often, misdemeanor abuse cases have failed to get serious or consistent consideration in Metro Court, while felony abuse—which goes to state District Court—often ends up being pled out from a series of other charges, and basically dismissed. Police, animal control, and others who investigate animal cruelty and neglect have thus lacked the incentive to bring cases to court and try to get convictions.
The existence of an Animal Welfare Court will ensure more dedicated consideration of animal cruelty cases, and the court can also intervene to try to prevent mild cases from escalating—as they often do. The judge, prosecutor, probation officer, and others would develop the expertise to assess when intervention might be appropriate and effective, and how to follow up and track the impact of rehabilitation.
Under the court as proposed, certain animal cruelty charges may be dismissed if defenders complete a program specially designed for them. The AniCare Model of rehabilitative therapy for animal abusers was developed in 1999 to teach empathy in those who lack it. A number of New Mexico therapists are trained to provide it, and the new court will seek private funding to train more.
Advocates say a specialty court will help prevent future violence not only against animals, but also humans, as research has shown a strong link between animal cruelty and a range of other violent crimes.
The Animal Welfare Court Task Force meets next on March 6, and is currently seeking about $2,000 in funding to train counselors in preparation for the court startup in July. Fundraising ideas can be sent to Laura Castille at castilla@law.unm.edu.



Birds are once again in crosshairs
of fight over development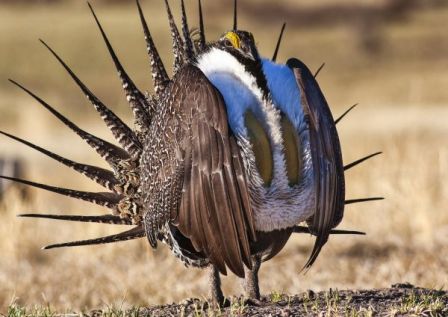 THE FIGHT OVER the future of three chicken-like bird species that nest across Western sagelands has escalated to the point of rivaling the spotted-owl showdown of the 1980s—a fiery confrontation between interests economic and environmental.
For nearly two decades, rapid decline in the Greater Sage Grouse, Gunnison's Sage Grouse, and Lesser Prairie Chicken has led state governments to unprecedented cooperation with land developers to try to restore bird populations and prevent the restrictions that come with federal "endangered" status.
Their efforts will face a big test come September, when the U.S. Fish & Wildlife Service rules on whether to protect the Greater Sage Grouse as "threatened" or "endangered" under the Endangered Species Act. This could slap development restrictions on 189,000 square miles of high plains habitat spanning 11 states—an area double the size of Colorado.
Last year, Fish & Wildlife found the other two species to be merely "threatened"—a less restrictive status that set off a flurry of lawsuits by conservation groups questioning the scientific basis for the decision.
Nevertheless, Colorado has already moved to sue the federal government over the Gunnison Sage Grouse's new "threatened" status, saying it interferes with a quarter century of state efforts to save the bird.
Federal scientists stated years ago that all three birds have declined so much they are in danger of extinction. But official protection has been delayed by the development interests at stake: grazing, oil and gas drilling, mining, and alternative energy—along with concerted state efforts to protect the birds on their own.
The issue has become so heated, Republican lawmakers took matters into their own hands in January by attaching a rider to the FY15 appropriations bill that prohibits Fish & Wildlife from funding any new rulings on the birds, effectively preventing any further protection.
Ironically, this had the unintended effect of hampering efforts by land developers to protect bird habitat, in some cases with funding from Fish & Wildlife and legal guarantees of their right to keep ranching.
Despite all these efforts, bird populations plummeted during the recent drought. Numbers of Lesser Prairie Chicken (the only one of the three species found in New Mexico) fell by half between 2013 and 2012, to 17,500 birds. The Gunnison Sage Grouse is down to just 4,700 individuals, while the Greater Sage Grouse population has rebounded to 19,800, thanks to conservation measures.
From a biological standpoint, the fight is about more than these individual species well loved for their complex mating rituals. As an indicator species, they serve as "canaries in the coalmine," signaling the health of the high plains ecosystem and its ability to support life.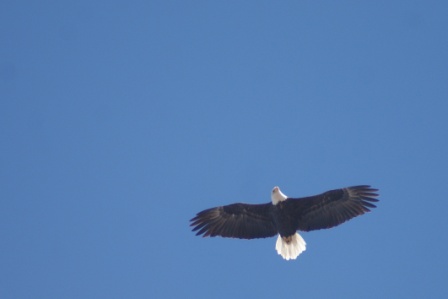 A Bald Eagle was spotted overhead near Coors and Montano in early January by Bosque School science teacher Dan Shaw. He spends time along the Rio Grande as co-director of the Bosque Ecosystem Monitoring Program, which puts thousands of students to work monitoring ecological conditions in the bosque. Their findings enter a University of New Mexico data base, which is used to make management decisions for the Rio Grande and its riverside forest.