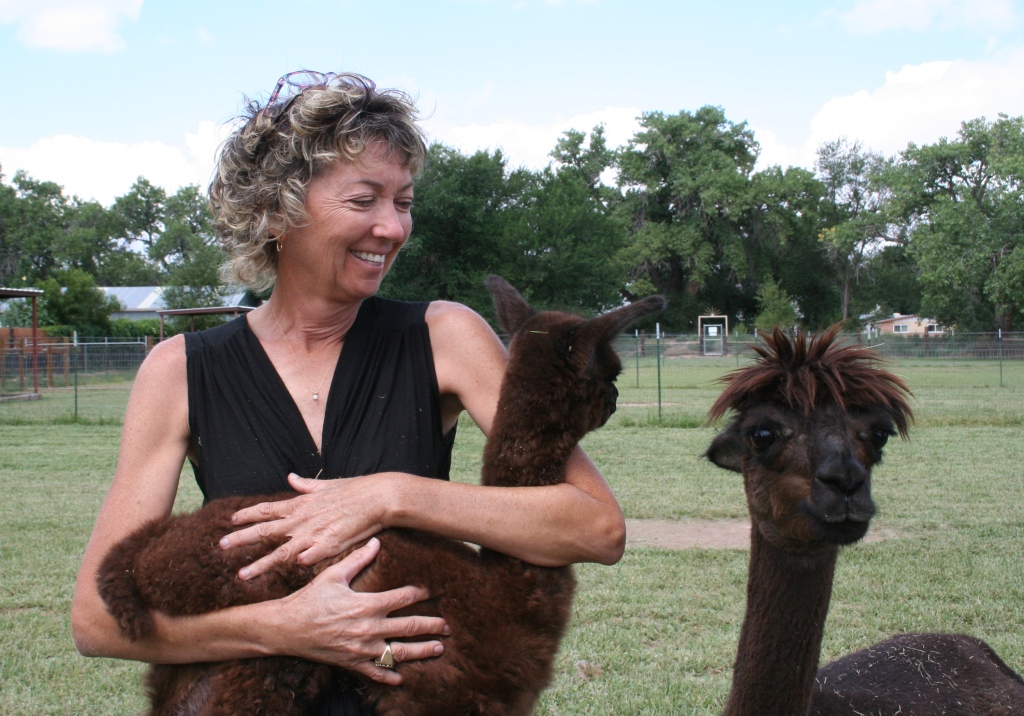 How two alpaca gave birth to a half dozen businesses
You've seen the sign, driving north on Alameda, advertising Albuquerque Alpacas — and may even have stopped in for a tour of the ranch and store. Weavers and knitters, of course, have long known about this source for top-quality yarn. What isn't immediately visible is how the homespun operation in a residential neighborhood actually consists of a diversified income stream that has multiplied faster than any creature on the farm.
The alpaca ranch, store, workshop, and meeting space have all emerged from the seemingly endless energy and imagination of the sole proprietor, Leslie Stoddard. Seven years ago, as a schoolteacher with a terminally ill husband, she knew she needed to find a way to work at home. After reading an article about alpacas — the latest fad in exotic livestock — and with absolutely no experience in ranching, she bought herself a pair of pregnant females in July 2005.
Fast-forward to 2012, and what started as a homegrown breeding experiment now consists of multiple businesses, all interrelated. Breeding is one of them, as is showing professionally. But Stoddard's bread and butter is what she calls agri-tourism, whereby city folk buy a ticket to taste the country life.
First stop for visiting tourists is seeing the darling South American camelids with big eyes, much smaller and cuter than llamas. The tactile experience is crucial, Stoddard says, meaning that petting usually leads to picking up socks or a hat at the ranch store. All tours cross through a classroom to see demonstrations of carding and spinning, which is how they learn about workshops held at the ranch — a whole other ball of yarn.
The workshops are a separate operation that offer participants a half-day or one-day experience making a felted hat, scarf, or slippers, and partaking in the farm-to-table version of fiber arts. As soon as they arrive, participants shed their cares, says Stoddard, who sees it as part of her mission to share the therapeutic benefits of communing with nature.
A back-to-the-lander from New England who built an adobe home in Placitas with her husband in the 1970s, Stoddard shows an uncanny ability to seize on the next big idea and make it happen. Her workshops evolved from talking with other fiber artists at a Handweavers Guild conference in 2010. Immediately she set to work renovating an old storage shed on the property in Alameda where she and her husband had built a home and raised their kids.
Today, that converted shed is an appealing classroom stocked with yarn and craft supplies, where she welcomes school and other tour groups. "My strength is that I have become a farm in the middle of the city," says Stoddard. "People come here first because they don't have to drive all the way to the mountains" to have a rural experience.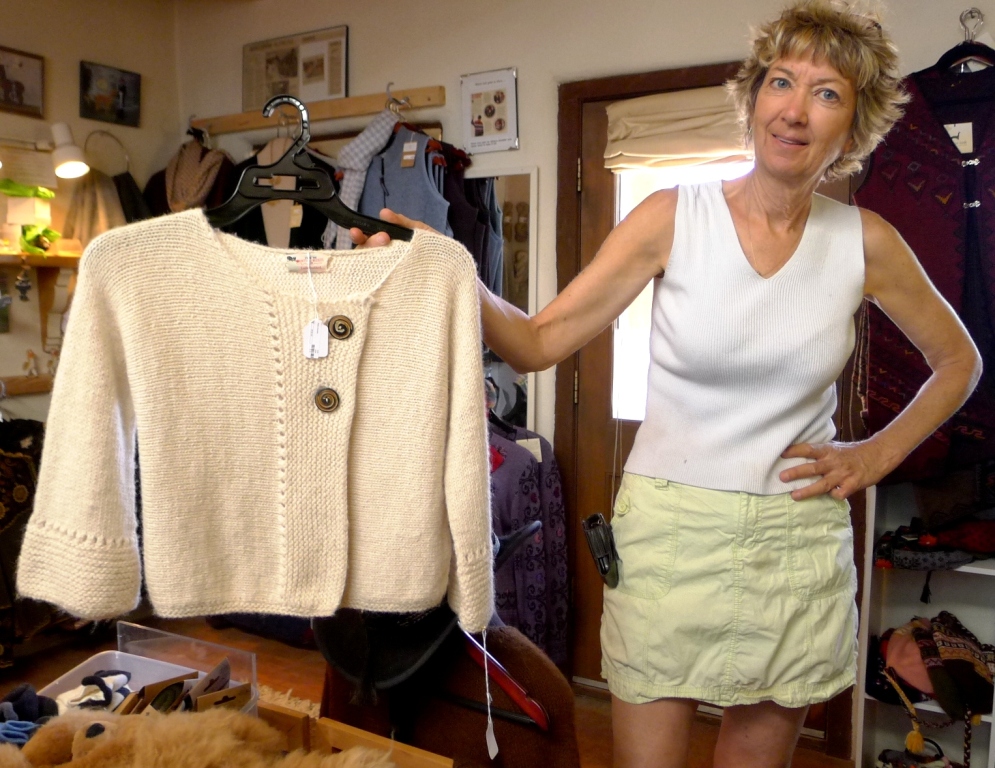 Among the clothing offered for sale in the ranch store are items she has spun and knit by hand, with the alpaca donor pictured on each tag — popular with visitors who "bond" with a particular animal. The store itself contributes a significant share of income, especially at the holidays.
From the spring shearing of her two dozen or so alpaca, Stoddard has fiber for the rest of the year. The coarser belly hair she makes into rugs, all of which helps to promote the advantages of alpaca fleece: warmth for weight, strength, and incred ible softness compared with sheep's wool. Visitors tell their friends, school groups bring their families with out-of-town guests, while retirement centers and even corporate groups lead to all-important return visits.
Marketing consists primarily of simple rack cards distributed at tourism outlets, and promotion through membership in the Albuquerque Convention and Visitors Bureau — a strategy that has netted high return on investment.
Meanwhile, the breeding end of the business Stoddard learned from programs put on by the Alpaca Breeders and Owners Association. She now breeds expensive show animals, and sells the rest as pets. She also offers an agisting service, whereby alpacas are purchased and board permanently at her farm. "One of my strengths is support for buyers, since the first year is a learning experience," she says, adding that she has helped a number of area breeders set up operations similar to hers.
Amazingly, Leslie Stoddard handles all of these businesses entirely on her own. Husband William died in 2007, and her two children are grown. Like many artsy women who homesteaded in New Mexico in the 1960s, '70s, and '80s, she never seems to let a shortage of experience stop her from forging ahead with her ideas.
"I had to change hats a hundred times," she says — from learning basic veterinary care of the herd to ranch construction projects to submitting articles to alpaca magazines, "anything I could think of to add to income." Even now, her list of accomplishments seems at odds with her easy willingness to chat with anyone who drops by.
"I am very focused, I have a lot of energy, and have always been efficient — so to develop all this in six years doesn't seem strange to me," she says. "I've always been good at visioning — I just see the goal, and then get there." Drawn to creative projects, cottage industry, and the outdoors, Stoddard says the farm doesn't feel like work because she has a passion for it. "And I make social contacts on a daily basis."
A born marketer, she is also a nonstop evangelist for alpacas as the ideal pet, the ideal fiber, the ideal business. "I've sold quite a few pets to Corrales," Stoddard notes, "where people have the acreage." But enthusiasts should know that buying a fuzzy pet is altogether different from buying an investment, as the latter will raise the purchase price from three figures to four or five. Besides, you don't have to buy the whole animal to get your alpaca fix; Stoddard is happy to let you visit hers and send you home with a pair of socks.
"Everyone comes with a smile and leaves with a bigger smile," she says. "It's my way of giving back to the world."