Back to Two Horsepower
Some find their destination driving without wheels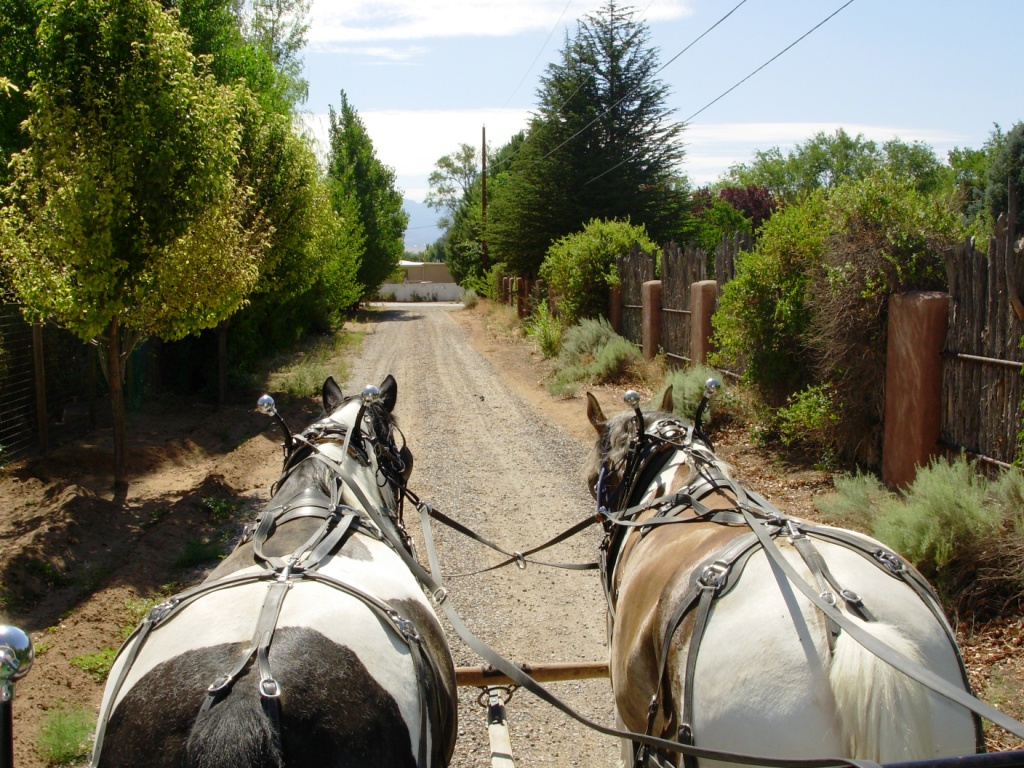 Above: The view from the driver's seat: Belle and Isaac, Percheron-cross horses that stand 17.3 hands high, amble down a lane near Old Church Road. Below: The view from the passenger seat.
"Belle, step up. Isaac, gee, gee."
Two massive pinto horses, one black, one brown, amble into place beside the covered wagon, lifting their plate-sized hooves. Kirk and Anndee Brown finish threading, crossing, looping, buckling, and tightening the puzzle of hitches that connect the horses to a large green wagon, and the team is off.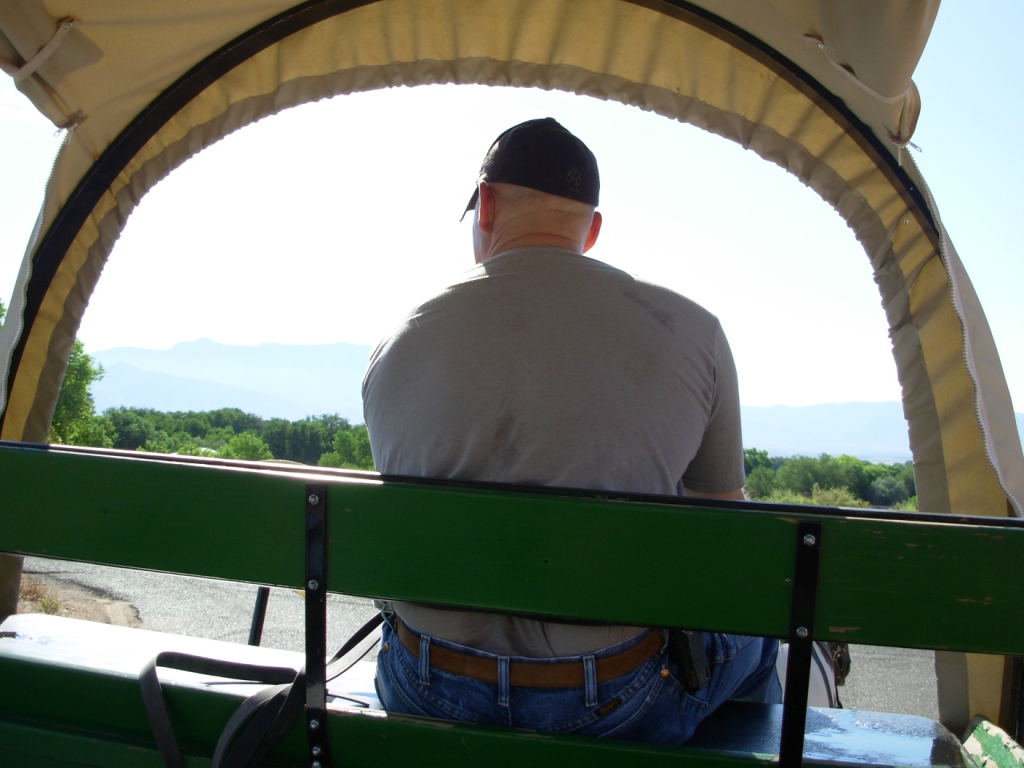 Clomping through the automatic gate, a right turn down the street, whoa, then across Loma Larga—to the bewilderment of waiting cars—to the ditch, where the horses dance into their regular rhythm.

Kirk Brown, a veteran of the Albuquerque Police Department and former member of its horse patrol, decided about four years ago to challenge himself as an equestrian by learning to drive horses. Everyone referred him to expert driver Harry Touloumis, who was arm-twisted into teaching Kirk the basics.

"If you don't take lessons, it can be very dangerous," Kirk calls over his shoulder as we jostle pleasantly down the ditch. "People think it's easy to drive, but there's a lot involved."
Driving horses turned out to be considerably more complicated than driving a car. First there was the need to buy specialized tack—a ton of it. But where does one get the tack required for horse driving in this day and age?

From the Amish, of course. At an annual auction in Brighton, Colorado, the Browns acquired tack, wagon, and their second horse Belle, an Amish-trained Percheron cross. Belle helped train Isaac, their first draft horse.

Both Kirk and the green-broke Isaac went through their paces with Touloumis, a mountain man of the type that is rapidly disappearing from America. A self-taught ferrier, wheelwright, and blacksmith, Touloumis admits that he bluffed his way into learning to drive himself.

"Lied through my teeth," he says of his first job with a team at a lodge in the Tetons.

Over the years, though, he's gotten pretty good. Kirk Brown would not recommend that you learn from anyone else.

"We got fascinated with the whole way of life," Anndee adds of their weekend hobby, which consists of selling rides for birthday parties, weddings, company retreats, and occasionally plowing fields the old-fashioned way (as Ton of Fun Wagon Rides)—or just loading up family and friends in the 12-seater wagon and heading to Corrales Bistro Brewery or Village Pizza.

"Being able to get away from the rat race of the work week and the technological world, you notice things that you can't when you're whizzing by," she says. "You don't have the radio going; it forces you to interact and have some downtime that people don't get anymore."

It's hard to argue with that. The lulling motion of the cart—thankfully covered, and with shock absorbers—creates a rhythmic soundtrack to the Corrales panorama framing the driver. Cars stop to wave or stare, and even horses in their stables seem taken aback.

"Some of them are terrified by the wagon," Anndee explains.

When you're driving a team of horses, "haw" is your left turn, "gee" is right, "ho" is stop, and "step up" is the accelerator—a command the horses seem only too happy to indulge on this cool morning on familiar terrain. A brake on the wagon wheels helps slow the cart on the downhills, which takes the weight off the leather straps that act as brakes across the horses' rear.

When we reach a large field off Old Church Road, Touloumis is already well into disking a plot of dirt with his team of three Belgians—large, handsome horses that are a familiar sight on Loma Larga, standing head to tail. The plough disc looks like something from 1900, and it is giving the horses a workout.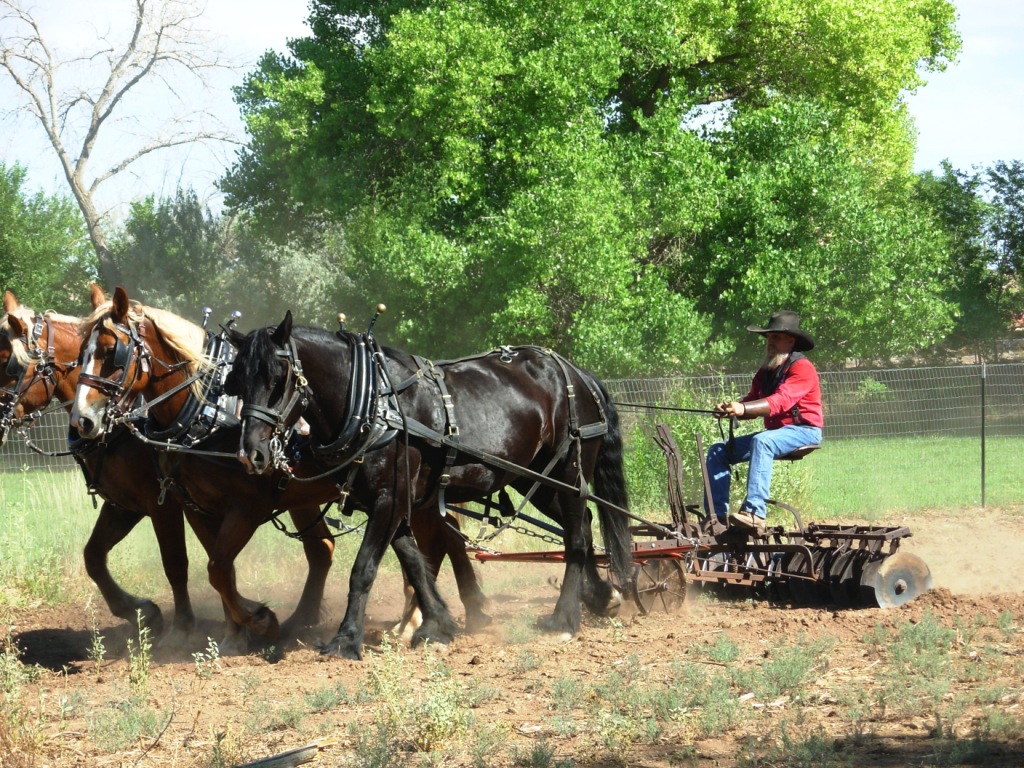 Harry Touloumis drives a team of three horses, plough-disking a field to keep his Belgian draft horses in shape.

"I have a gentleman's agreement with the owner of this land," Touloumis explains after "ho"-ing his horses into the shade. "I lay manure, and told him I'd plow and disk it. I've got two colts that I'm working, and I only live on one acre. Half of that is for the horses," he adds, "and half is for my stuff."

The horses stand patiently, shaking their heads but otherwise calm. Touloumis works them in 30- to 45-minute bouts so they stay in shape. He explains his two basic rules of driving: (1) Never let go of the lines, and (2) "Ho" is a command, not a suggestion.

If you don't know how to stop, drive them into a tree, he says. "The only time you let go of the lines is when a horse decides to commit suicide."

Once the reins go slack, the rig turns into a predator, and "ten thousand years of evolution kicks in." That's what happened to Touloumis at the State Fair one year when a horse threw him, broke a fence, tore up four carts, and injured four horses, one of which had to be put down. "All because people don't get that 'ho' is not a suggestion."

A driver for nearly three decades, Touloumis knows all the others around: Steve Simmons and
Joe Hancock, Gus in Rio Rancho, and Bill Jones, who has five rare Suffolk Punches on the north end of Corrales.

As Kirk and Anndee hitch the horses for the ride back, willowy equestrian Rachel Johnston takes the reins from Touloumis—proof that it is training, not testosterone, that makes the driver.

"I always recommend that people who ride challenge themselves," says Kirk, "and not let the horse dictate what you'll do." Driving is not for beginners, he notes, adding that he learned how to duress-train his horses in APD, get them accustomed to loud noises and big movements and keep control if they spook.

As we pull into the driveway, Kirk has the horses execute a three-point turn to back the wagon in—the mark of an experienced driver. Belle and Isaac grudgingly follow dozens of individual commands, eager to be rid of their gear. But Kirk is all smiles when he's done.

"This has been the most rewarding hobby," he grins. "You feel so great when you get back, like after a workout. It's a real sense of accomplishment." Which is probably not something anyone says when getting out of a motor vehicle.