Team ropers get down 'n' dirty three nights
a week in the Corrales bosque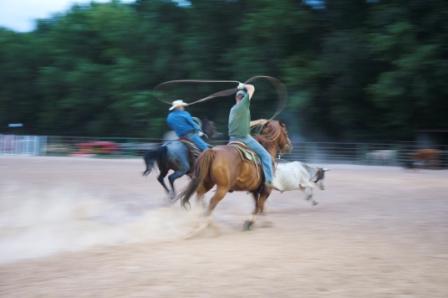 The scene could be fifty or a hundred years ago—except for the mechanical cowmounted on the back of an ATV, leading the cattle ropers around and around thehorse arena. It's Tuesday night at Peter Parnegg's place, and that means practice nightfor the team ropers.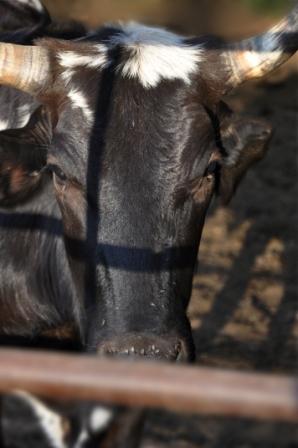 As the sun sinks and the arena lights come on, the half dozen guys finish their practice runs as eight or more steer are corralled along the outside of the fence to a holding chute.Two riders flank the chute. With a nod, the gate is opened and the steer starts running forhis pen, opposite. The ropers take off, one lassoing the horns as the other tries to loop aback leg. About half the time they succeed before the animal reaches home base.

Joe-Bob Nunez has been riding a horse for as long as he can remember. He grew up ona ranch and worked as a professional saddle bronc rider in the rodeo. After retiring, hegot into team roping because, he says, some people do it till they're 80 years old.

"It's one of the toughest for hand-eye" he says. "It's difficult to master because there'stwo horses, two riders, the steer, and they're not all on the same page. You have tocontrol the horse and the steer. That's where a person has to know their horse."

All their mounts are quarter horses, which were bred for ranch work. Quarter horses
will naturally chase cows, says Joe-Bob, though you do have to teach them when to stop and how hard to pull back.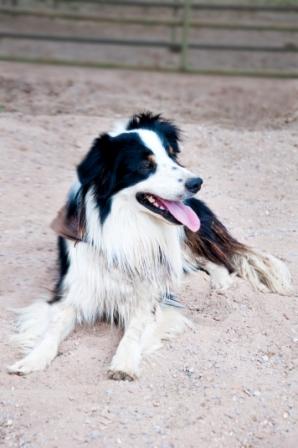 Joe-Bob's dog is a border collie/Australian shepherd cross named Cowboy, and the name fits. When someone hollers "COWBOY!" the dog tears off into the steers' pen, barking and bothering the cows so they'll hustle down to the chute. He clearly loves his job, and looks eagerly from one person to another, panting happily. "To be perfectly honest," says Joe-Bob, "I did give him some training, but it was minimal. Most of what he does, he does out of natural instinct." The dog did have to be taught not to run in front of the cows, since the herding instinct is to keep them together.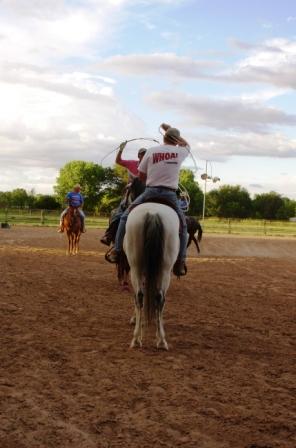 Steve Henry, outgoing president of the Corrales Horse andMule People (CHAMP), is new to team roping. He's here because he's been riding for 15 years and wants a challenge.

Team roping has grown in popularity because anyonecan take it up: Kids do it, old people, families do it together."It's cheaper than drinking beer," says Steve, "and you can telljust as many lies."

The loose-knit group here tonight describes itself as FOPs—Friends of Peter. The co-owner of Coldwell Banker Legacy, Parnegg built the arena because he needed a convenient placeto practice. Corrales has a history of roping groups who oftenshare the cost of an arena so they don't have to trailer out to the Southwest Roping Club in Rio Rancho to practice. And it does take practice: Three, four times a week, about six of thehalf dozen ropers meet here for a couple of hours to stay on top of their game.

Scott Norman, a Corrales native who grew up on horseback,recalls when the Village had three arenas where people went to rope—Oliver Nie's, Jasper Coons' and Casey Darnell's. Everyonelearned from Oliver, who died a couple of years ago. "Whenyou got so you could actually catch something, you might beinvited down to Jasper's," he says.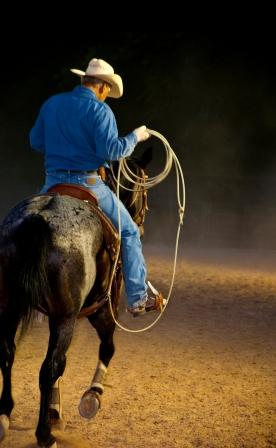 Back in the 1960s and '70s, kids in Corrales rode their horseseverywhere, Scott says. "When we finished our chores, it wasthe easiest form of transportation." They would head to theswimming spot on Clear Ditch, where there were always a fewhorses hitched. More than once his horse got fed up with hisantics and arrived home without him.
The group includes few women,at this point. But women arestrong competitors at teamroping, the men say, because theyhave a greater sensitivity to theirhorse. "The main thing you need is hand-eye coordination," says Scott.Heavy people can rope, as do peoplewith disabilities. You can startcompeting at any point, becauseeveryone is assigned a handicapbased on ability. "You can fall off alot," he says. "Then you're more likethe entertainment."

It takes a lot of energy to stay in competitive shape. Load up thehorses, saddle them, prep the arena,then reverse it all afterward. But it'sfun, the guys say—wholesome fun."It's a great lifestyle, the Westernlifestyle," says Joe-Bob. "A lot goesinto it."