Motherless Coyote Pups Get a Fresh Start in Cuba

Seizing offspring has become the Village response to maternal aggression

Joggers and dog walkers in the northwest corner of Corrales have gotten used to seeing cute coyote pups frolicking near a culvert across from the fire substation each spring. For two years now, reports of aggression by the mother coyote have led Animal Control officers to remove the pups in midsummer, in the hopes that the mother will leave the culvert area.

Where do those pups go? Well, as anyone who has lived in Corrales for a while knows, when it comes to rescuing coyotes, the No. 1 resource is longtime resident Susan Weiss, founder of Co-exist With Coyotes. Corrales Animal Control has been giving her pups it seizes since about five years ago, when pups were taken and their parents shot in the same northwest neighborhood for showing aggression toward dogs.

"That was a huge breakthrough," says Weiss, who began advocating on behalf of coyotes in 2000. Previously the practice had been to shoot the parents and gas the pups, Weiss said. "From that point to the last couple of years—capturing the pups and not killing the parents—we've come a long way." The next step, she believes, is to take measures to prevent the mother from using the culverts in the first place.

Weiss usually calls on her network of large-mammal rehabilitators, three individuals and one institution, all located north of Albuquerque. Both this year and last, the pups ended up at The Wildlife Center in Espanola.

Sited on a 20-acre parcel of former BLM land, the nonprofit Wildlife Center founded in 1986 by veterinarian Kathleen Ramsay of Espanola has a hospital and rehabilitation facility, wildlife exhibit, and educational program. According to rehabilitation supervisor Kerrin grant, four of the five pups taken from Corrales this June were released August 25 in the mountains near Cuba.

Grant had identified the alpha and beta males and females, and released them all together. The remainingfemale came in with a slight limp, which may have been developmental. "She was at a little disadvantage," says Grant. So she was paired with two 3-month-old pups that had come from down south, to be released together in the spring when "it's easier to find food and a mate," Grant explains. "So she'll be the matriarch and will probably attract a mate, and the pups can stay with the pack or not."
Before release, the pups are sent to "mouse school," where they are given mice and rats at different stages
o
f
development so they can practice hunting. Working with New Mexico Game & Fish, the center identifies
remote areas for release, far from human populations. Last year, Corrales pups were released on Santa Clara Pueblo land.
At the center, "we keep contact to a minimum," Grant says, "just go in to feed them. They stay very wild; they
run and hide from us, and we encourage that." Ultimately, wildlife is better off in areas far from human
civilization, she added. "All the issues with people and cars, all the things in urban areas where they end up
going because they get pushed out of territories, those are the ones that struggle the most."
Weiss agrees. She said coyote incidents used to be much worse in the Village ten years ago, when home
construction in Rio Rancho pushed wildlife toward Corrales. "Of course wild populations ebb and flow,"
she said, adding that she is not a wildlife biologist. But in her 30-some years in Corrales, she has noted more
frequent droughts and less abundant wild prey, which has cut down the resident coyote population.
"They have a home range, and generally will stay there unless disrupted," she said, listing some established
family groups, such as one on West Ella, one below intel, another at Sagebrush, and at least six families that
used to live on the west side. Corrales used to be an oasis, Weiss said, until a flurry of home building caused a spike in coyote-human conflicts. At the height of it, angry residents presented the Village Council with a petition of 200-plus names opposing the killing of coyotes—only to be met by testimony from three residents
whose animals had been victims of coyote attack.
While Village policy toward coyotes has grown more accommodating, Weiss says, the real reason for fewer
clashes has been a shrinking coyote population and residents more educated about how to protect their pets.
"Animal Control will not tolerate attacks. But there are nonlethal ways to prevent them," she says, such as covering and uncovering the culverts during pup season—a job no village department appears willing to take on. But removing the pups and trying to chase off the mother has not proved so far to be a sustainable or popular solution.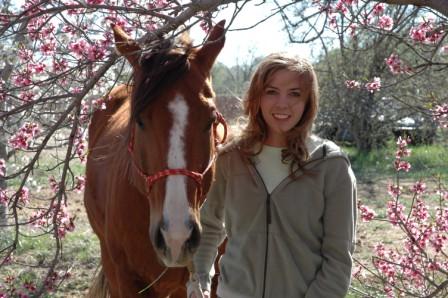 Corrales 'No-Kill' Ordinance was Law School Project
UNM student surprised to see it enacted
Timing was lucky for the May 24 law making Corrales the first "no-kill" community in New Mexico. So many synchronistic factors helped support the move—from the campaign to build a community animal sanctuary to having the village declared "Horse Capital of New Mexico"—that the proposal seemed to float through the Village Council on popular momentum.
But it turns out that lucky timing began months earlier, when former Corrales resident Jenny Beare and a half dozen fellow animal-lovers at the UNM School of Law petitioned for a class on "Animal Ecosystems: Urban, Rural, Wild."Their tiny Student Animal Legal Defense Fund club had managed to attract enough signatures to have law professor Marsha Baum teach the class, which is one of her areas of specialization, Beare explained. Baum assigned the students to find an organization to help. Beare discovered FOCAS ( Friends of the Corrales Animal Shelter)
through the rescue organization CARMA.
She met with CARMA director Barbara Bayer and FOCAS president Phil Padrid, who suggested that she research a "no-kill" ordinance for the Village that would prohibit killing animals impounded by Village Animal Control. With help from Village Attorney (and UNM Law alum) John Appel, who made sure the draft conformed to Village code, the ordinance made its way into the law-making machinery.
"We were prepared, because they had so much trouble in the past, that most likely it wouldn't pass this time," says Beare, "but we could at least get it out there again." She said that Bayer had drafted a version just in the last year, without legal assistance.This time, though, the bill co-sponsored by Councilor John Alsobrook sailed through three readings and won approval by the full Council. "We were actually shocked," Beare relates. "I think maybe people are starting to realize that there's more to animals than having them as pets, that there are actually legal issues involved."
"When Jenny presented her project to the class," said Baum, "everyone was very impressed with the level of commitment she had made to the project and with the exceptional results she helped to achieve." Baum said it was inspiring to see such a real-world benefit come out of the class.
A native New Mexican raised in Corrales, Beare now lives in Rio Rancho with her five dogs, three cats, and two horses—all rescue animals. "I hope to get back to Corrales and have an acre for my horses," she said wistfully.
Practicing legal advocacy for animals will likely not be a full-time job after graduation next year, however. "It's a developing area of law, and you have to be prepared to make not much money," she said. "So I'm going to continue doing pro bono work for Animal Protection of New Mexico and other advocacy groups on the side."