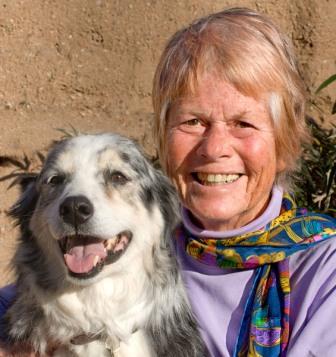 A Memorable Rescue

Every life saved is a rewarding expxerience for the rescuer—but some are especially so. Usually these are cases of animals who, for whatever reason, had the most difficult time reaching the right person. I asked Judy Paulsen, founder and director of greyhound Companions of New Mexico (gcnm.org), to share one her most rewarding "happy tails." Portia's story illustrates how many people work together to save each individual.

Other members of the Corrales rescue community will be sharing some of their most rewarding experiences in future issues.

Portia's Story

Sadly, not all racing greyhounds go to adoptive homes when they are too slow or broken to win races. Some are euthanized; others end up being exploited in other ways. Case in point: Portia, a greyhound found on a highway outside Portales.

A good Samaritan pulled over to see if she was alive, and was able to get her safely into his vehicle. He made a couple of phone calls, and luckily was told to contact Greyhound Companions of New Mexico.

We began making arrangements for him to take the greyhound to a veterinarian in Portales where she could be examined. Many exams and x-rays later, it was determined that the dog could be transported to Albuquerque. One of our volunteers, Eric Jackson, didn't hesitate to
sign up for the six-hour round trip.

When Portia arrived at my house in Corrales, she was very thin and her coat was coarse, dirty, and patchy. Scars on her legs, sides, and back indicated many encounters with barbed-wire fencing. She was friendly but cautious in her new environment, afraid to come in the house,
suggesting she had never been in one. Greyhounds are usually not jumpers, but Portia came to demonstrate an agility that likely had developed through encountering obstacles.
Portia was probably a hunting dog. Greyhounds used for hunting are often kept in outdoor pens or barns like livestock rather than as part of the family. Judging by her behavior, she had never
been a companion dog, but a rowdy outdoor dog that had received little attention from humans.
I began to have my doubts about whether Portia could ever settle into being a house dog. She was so hungry, she jumped and clawed at me while I prepared food for the dogs. She was practically uncontrollable, and I realized how much time and effort I'd have to invest before she
could be placed in an adoptive home. Most greyhounds that come into our program are adopted within a few weeks. But I vowed to work with this girl until she understood that being a mannerly dog was more rewarding than being out of control.

First on the list was to have her spayed and have her tail examined, as it constantly bled at the tip. The morning of her appointment, panic set in as I searched for her throughout the house and yard, and out to search. Immediately I spotted her at a tree farm across the road, where workers seemed to be scattering as if pursued. And there was Portia, just trying to make friends.

Eventually the ideal adopters called to inquire, and didn't seem the least intimidated by her history or behavior. When I informed them that Portia could easily clear a 5-foot fence, they got to work building a 6-foot fence. I promised to hold Portia until they were prepared for this
feisty, athletic greyhound—and it was worth the wait for everyone. After a home visit by one of our representatives, the family was cleared to adopt and made the trip from durango to fetch her. By the time they arrived home, Portia had completely bonded with her new people.

Finding Portia the right home took several months, but judging by the frequent photos and videos I receive, this is the perfect match of dog to loving family. I have to say there's nothing more rewarding for rescue groups than to hear how well a placement is doing—and this one
in particular was most gratifying for me because of all the effort and time it took to prepare Portia for her forever home. —Judy Paulsen, founder and director, Greyhound Companions of New Mexico

Photographer Joyce Fay founded Bro &Tracy Animal Welfare in 2000, a nonprofit organization dedicated to helping individual animals find the righthomes. The intention of this column is toshare some of those stories.