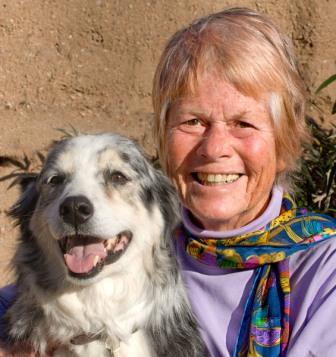 How Much Is That Doggie in the Window?
Among the success stories of Corrales-based rescue groups, one especially happy tale comes from Second Chance Animal Rescue, whose popular thrift store has turned out to have a surprising additional benefit.
Second Chance Treasures' story
It was the heartbreaking rescue of Pete, the lively Chihuahua/Dachshund puppy with two broken legs, that inspired the women behind Second Chance Animal Rescue to start looking for a steady source of income for such extraordinary expenses. Pete's $6,500 surgery bill had been charged to the personal credit card of SCAR executive director Debbie Duck.
A little more than two months later, in March 2011, SCAR opened its thrift store Second Chance Treasures in the former Bunkhouse building on Corrales Road—to overnight success. Store manager Nancy Baumgardner credits "the generosity of the community, our Corrales Road location, and the dedication of our assistant manager Ali Rodgers, and our volunteers, especially Corrales residents Sherrie Socia and Karleen Talbott."
Quickly arranging the volumes of donations into separate departments, including a mini bookstore in back, the staff created a pleasant browsing environment that has drawn a steady stream of treasure-hunters—as well as high-quality donations, including antiques and collectibles. Clearly, Baumgardner's sense that the Village could use a thrift store had been spot-on.
What she hadn't foreseen is that dogs themselves would find new homes through the store. Baumgardner began bringing in one of her foster dogs to keep her company at work. A customer fell in love with Nash, a "reservation dog" that had been found shot, and ended up adopting him. The same customer later adopted Jax, another of Baumgardner's foster dogs.
Since then, "almost every dog that has been in the store has found a home," she says—at least 15 dogs to date. Doglovers tend to shop in the store, so it makes sense that sometimes the chemistry would be just right. Usually SCAR advertises available dogs through its website and at adoption events, but in the thrift store each dog gets his day, without a cage or crowds. That brings out their individual personalities.
Of course, not every dog can shine at the store. They have to be well-behaved, housebroken, calm, and friendly around strangers. The arrangement relies mostly on luck; Baumgardner waits until "the right dog" appears ready to make her debut.
Nash, a "rez" dog, adopted at the store
Dogs come to Second Chance Animal Rescue through referral from animal control agencies around New Mexico, as well as veterinarians. SCAR looks for dogs that fall through the cracks and would otherwise be euthanized, the kind of dogs that need a little extra help to get adopted.
The thrift store has been a happy tale for SCAR 's humans as well, helping to repay loans from its officers, provide a fund for medical and other needs, and even compensate Baumgardner and Rodgers for running the store every day.
The main limitation on SCAR 's work now is a shortage of foster homes. "We desperately need them," Baumgardner says. The group gets more dogs than it can place or house, and has resorted— like most rescue groups—to sheltering them at boarding facilities, which is not a solution for long. Foster homes provide dogs with the attention, love, and socialization they need to become adoptable.
Baumgardner hopes that Second Chance Treasures, through its presence at the heart of the Village, will help remind and recruit people to the idea that discarded dogs—like the gently used clothing, furniture, and housewares in the thrift shop—are hidden treasures just waiting for their second chance. And every once in a while, a dog will be on staff to wag that point home.
Photographer Joyce Fay founded Bro & Tracy Animal Welfare in 2000, a nonprofit organization dedicated to helping individual animals find the right homes. The intention of this column is to share some of those stories.