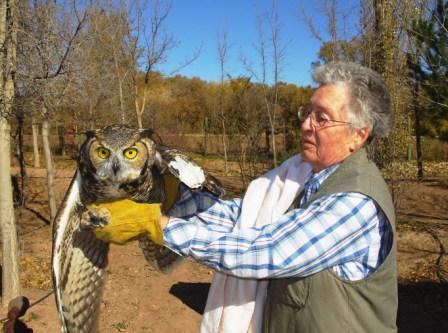 She has long been known for her incredible skill in nursing scores of injured wild birds back to health. Corrales resident Shirley Kendall was a pioneer in wildlife rescue, and for years she's been among the few individuals in the Rio Grande Valley with a permit to rehabilitate injured wildlife—and still the only
one specializing in raptors.

When she started, in the 1970 and '80s, almost nothing was known about how to
care for wild animals. She got some training at Wildlife Rescue Inc. in Albuquerque, and at university, but hers is the kind of knowledge developed over years of tending birds on her own, day after day, and living with the consequences.

On a cold winter morning, we came across her tending to a great horned owl with a splinted wing—probably hit by a car, she thinks, while feeding on road kill. Kendall's home in the bosque serves as a kind of wild bird hospital, with a half dozen large flight cages built by her husband, Jack, a mouse-breeding shed, and a veterinary office off the kitchen that speaks to a lifetime of looking after creatures that never wag in appreciation or fetch her slippers.
Though she is phasing out of rescue work, and training others to take her place, Kendall still lights up with enthusiasm whenever the topic turns to crane migration or the anatomy of a turkey vulture. Nature is marvelous, she says, regaining in an instant all the clarity that her memory has robbed her of in recent years.

Says Mikal Deese, Corrales' new bird lady: "She's forgotten more than I'll ever know."