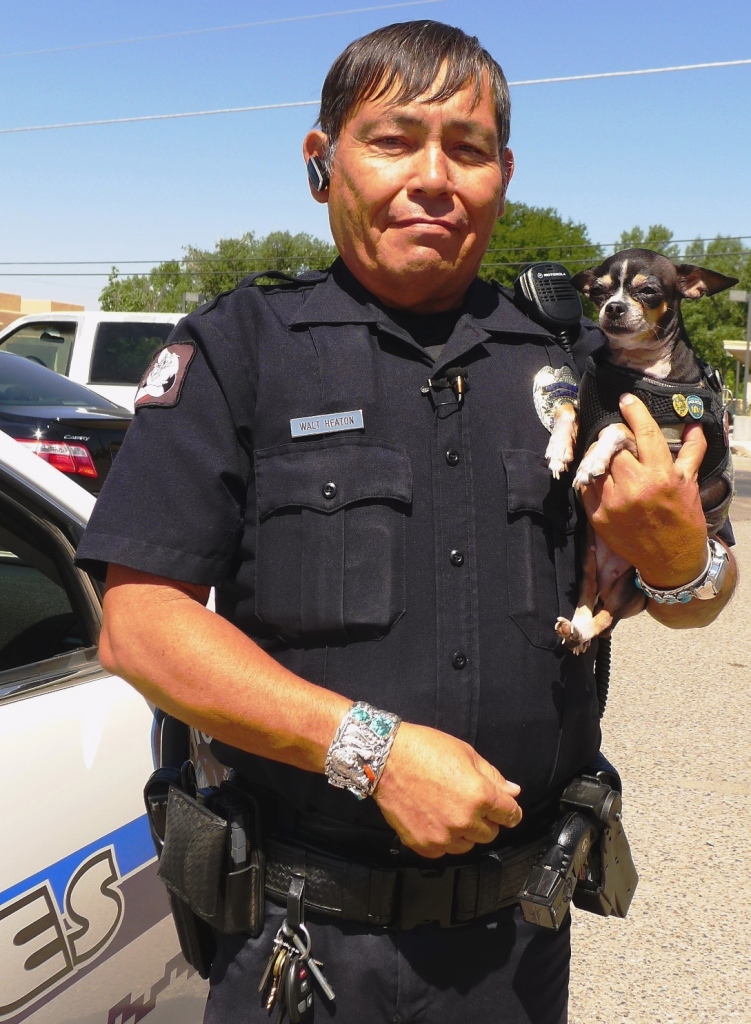 Corrales' fierce K-9 unit
Law-breaking equines, beware!
The term "police dog" generally brings to mind something involving teeth and blood — a snarling Doberman, a barking German Shepherd, a bloodhound on a missing child's trail.
In Corrales, however, "police dog" can only mean a teacup-size Chihuahua who might be seen trotting around the Village offices in a dress instead of her uniform, a mesh vest bearing Police Department and D.A.R.E. patches.
Meet Cheyenne, the 16th officer on the force. If you live in Corrales, you may have been startled by a cruiser rolling by with darkened windows broadcasting a tiny, I-mean-business bark. "She barks at cyclists, motorcycles, horses, dogs — anything that comes alongside her car," says officer Walter Heaton, her patrol partner.
Cheyenne has been a member of the Corrales Police Department for most of her five years, riding shotgun with Heaton in the mornings. But that's nothing compared to him. Heaton has been on the force for as long as Chief Ray Vigil — 27 years. When he took the job in 1985 after two stints with tribal police forces, Corrales had just six cops.
"It was a little wilder then," Heaton recalls. Bikers and drugs were more prevalent in Corrales before gentrification set in. Things changed for him, too, over the decades. He raised kids; he got divorced. When Casa San Ysidro was being turned into a museum in 1997, Heaton moved into one of the rooms because the property needed a security guard. Eventually they built an apartment for him in back.
And that's where he and Cheyenne pass their evenings, cozily. "We're just comfortable," Heaton says of their little domicile. "She's no trouble." In the afternoons the pup gets dropped off at home to snuggle on the sofa, where she continues her guard duties by barking at unsuspecting tourists. (Not at resident ghosts though — there don't appear to be any.)
Heaton has never liked leaving Cheyenne alone for long, since she is about the size of a coyote snack. Snakes and scorpions also frequent their old adobe, which is why he started bringing her along to work soon after his daughter presented him with a squirming Father's Day gift in a green bag. Chief Vigil never objected. "I think he kind of liked the idea," says Heaton. "Over time, she became my mascot."
Still, many more people have heard Cheyenne than seen her. If one of the darkened windows on Heaton's cruiser should roll down, you would find the tiny K-9 cop in the passenger seat, alert in a carrier cube surrounded by file pockets and shelves — a kind of portable office that barks.
She doesn't get to come along when Heaton teaches his classes at the elementary schools for the Drug Awareness and Resistance Education program, though. She would be too much of a distraction. But she does attend graduation and school fundraisers.
"I like her around kids," Heaton says. Gentle and calm, Cheyenne has never fit the aggressive, ankle-biting Chihuahua stereotype.
That's why she makes the perfect partner for Heaton, who simply smiles when colleagues tell him to "get a real dog." As pampered as his princess may seem as she eyeballs visitors from her swivel chair in his office, Heaton says it's actually him who is attached to her.
"I'm reluctant to leave her at home," he confesses. He used to bring her shopping, even, until a mall security guard told him animals weren't allowed. "I have to uphold the law," he sighs. He doesn't like leaving her in the car either, since he once had a dog stolen out of his truck in a parking lot.
"I'm not much of a dog lover," he says, "but I do like small dogs. And I liked her because my daughter said she was the runt of the litter."
After the workday is done, the two guardians of the peace sleep together and eat together (she gets a bit of ham for breakfast), and when he fetches one of her outfits, Cheyenne perks right up, because she likes her job. No sooner do they arrive at the Village offices than she jumps out of the car to visit her favorite bushes. After a little paperwork in the office, Heaton opens the patrol car door and she jumps into her seat, ready for action.
"My joke is that if you work for Corrales long enough, they put you in a museum," Heaton says of his living quarters. And the sure sign of seniority in the Village is answering to a four-legged supervisor who rules the adobe roost at night.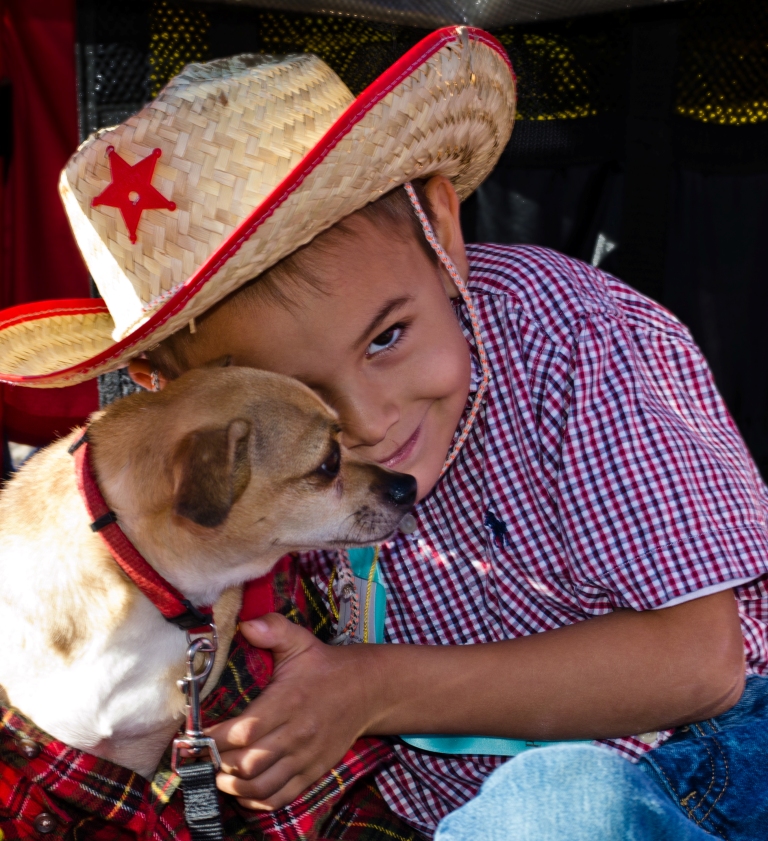 An animal festival in all but name
Pets star at the Corrales Harvest Festival
You can tell a lot about a community by its celebrations — which is why it makes perfect sense that the quintessential Corrales celebration, the annual Harvest Festival, comes bookended by animal events, old and new.
The weekend opens on Saturday morning (Sept. 29 this year) with the Pet Parade, a perennially popular event that captures the spirit of Corrales in many people's minds, since "pet" has a wide meaning in the Village. Parade organizer Linn Vasquez says she will never forget the young man who paraded with a tarantula crawling on him, or the Halloween-themed cart bearing a guinea pig in a "coffin."
On Sunday comes the highly anticipated announcement of voting results for Corrales Pet Mayor, a fundraising event that started last year and went viral over the Associated Press news wire. Organizer Caryl Trotter said she heard reports of broadcasts from San Diego to Kansas City to Australia.
Trotter, of the Corrales Harvest Festival Committee, came up with the election idea after witnessing a similar event in the San Juan Islands. Goats and dogs were being paraded around a village market, and "I just thought it was the cutest thing," she said, because it captured the flavor of village life.
She contacted another, highly organized pet mayor fundraiser in Oakland, California, and used their model. "I had no experience, and all of last year was a trial to see if it would work," Trotter said. The event turned out to be hugely popular, raising $8,000 for Corrales nonprofits and inspiring the kind of wordplay that journalists love.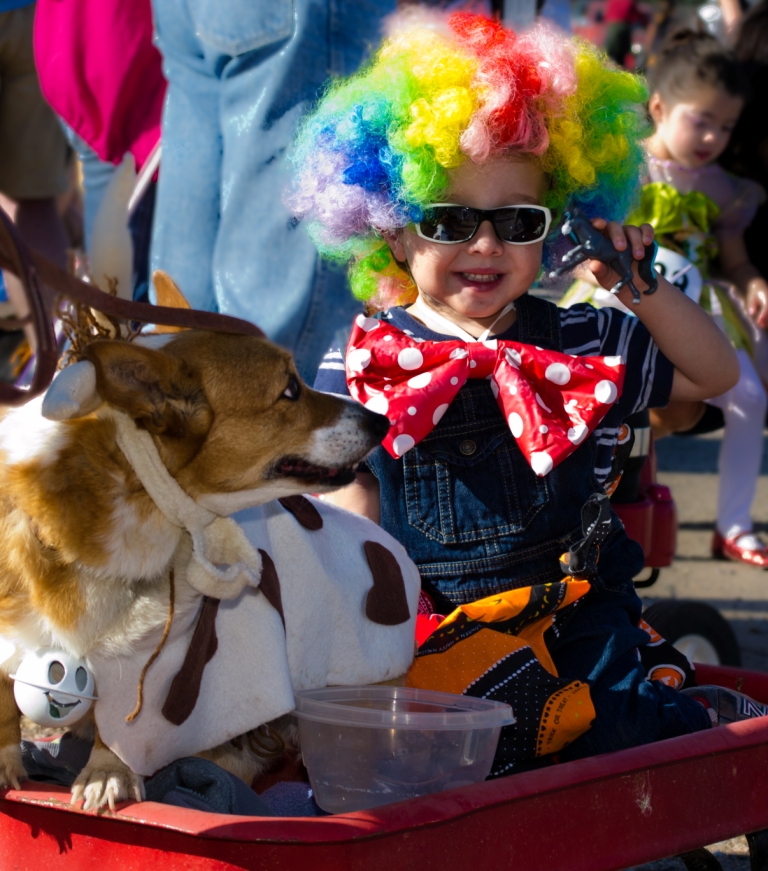 "I think it plays on our current situation of politics being so disgusting and nasty," Trotter mused. "This is the bright side of politics, and voting really does make a difference for the Village of Corrales. People know that they're contributing to something wholesome and silly, but also for the betterment of the Village, which supports us all."
An unexpected bonus was the winning pet mayor's appearance at a dozen or more events this year, raising the profile of Corrales and its nonprofits, and setting a high bar for future lawmakers. "That was just serendipity," said Trotter. "It has to do with the stature of Aspen in the community."
A few changes have been made to the race this year. There will be six applicants instead of eight, who will be chosen for their ability to run a good campaign (i.e. raise money, as in real life). Instead of asking people to vote for each candidate at its sponsoring business, polling stations for all candidates will be set up at central businesses and at the Growers Market.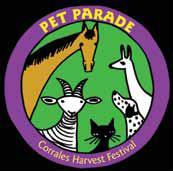 An important change was made also to the Pet Parade this year. For the first time, participants in costume will march for free. The event is geared toward kids, says Vasquez, and it seemed unfair to ask them to pay to walk their own streets. Corrales artist Jasmine Tritten (whose llama painting was our April/May cover), contributed a permanent logo, right.
Vasquez says pet parades are popular nationwide, but "I think ours is unique, because we're such a unique community." Most events don't allow horses or other livestock (not to mention tarantulas). The parade-length route is also unusual. Vasquez says the route used to be a short walk from the Rancho de Corrales event center to La Entrada park. But it only made sense to let the kids strut their stuff to a larger audience. Consequently the Pet Parade has grown into one of the cornerstones of Harvest Festival, attracting 75 or more participants each year to cheering crowds, mostly local residents at that early hour.
Immediately after the Pet Parade, the Corrales Horse and Mule People sponsor the Horse Extravaganza at the Topform Arena, 11am to 1pm. This showcase for all manner of horse breed and discipline includes a little of everything: synchronized riding, jumping, reining, roping, driving, vaulting, and dressage, as well as costumes.
Naturally, the candidates for pet mayor will have a strong presence at the festival, holding up the rear of the parade and casting their last bid for votes in a truly animal-crazy Village.