It Was a She, Not a He!

As I was leafing through the Jan/Feb 2012 issue, the paragraph leapt out at me from the "Beastly Blotter" regarding mystery surrounding a distraught woman dropping off a puppy in early December. That would be me.
I'd like to tell the story of how it came about. No mystery really, just circumstances.
On Friday, Dec. 2nd, I'd been working feverishly to set up for our church's Christmas Banquet. I rushed home to change clothes and prepare a couple of appetizers before I had to run back. It was late afternoon, dark outside, and a brutal wind howled through the sagebrush. A piercing "yip-yip-yip" sound rose from outside my kitchen window. I knew at once it was a small puppy. I ran outside with a flashlight and scooped up an adorable, well-fed, mixed-breed female pup.
Exasperated, I checked the dark road but never saw a car.
My husband's eyes widened as I came in from the cold with this ball of fur. I asked him to find a box and we settled the pup in with a blanket, water and milk. We changed clothes and off we raced to our banquet. The pup was warm and awoke sleepily when we returned.
The past six months had been a frantic blur for me, planning and assisting in different events, including a wedding for my daughter. You could say I was "stressed to the max" and was expecting the wedding party of five houseguests in another week.
I named the puppy Stella. She cried relentlessly at night, and in exhausted resignation I brought her to my bed. She fell asleep near my neck, and her faint breathing and warm, sweet puppy smell helped me relax. We came to love one another, although my Golden Retriever cross was not enamored with her.
That weekend weather was bad, and on Sunday it snowed. Village offices were closed on that following Monday. I kept Stella safe and warm, but my husband said I couldn't keep her.
When I put Stella in her box along with her blanket that Tuesday morning, tears ran down my face. I drove to Corrales Animal Control and literally sobbed as I checked her in for adoption. It was really hard for me to say goodbye.
I'm elated one of the Village staff adopted her, and know they'll be captivated by her as I was.

Stefani Yates-Groff
Corrales
CORRECTION:

Corrales Wildlife Rescue Team Comes Out of the Woods
We goofed big-time last issue in describing Shirley Kendall as "among the few individuals in the Rio Grande Valley with a permit to rehabilitate injured wildlife—and still the only one specializing in raptors." Not only are there many more permitted wildlife rehabilitators in the area now, but six of them live in Corrales, and two are raptor specialists with extensive training.
Such a grievous oversight could not go unaddressed, so following are introductions to your neighbors who donate their time and expertise to save injured animals at Wildlife Rescue Inc. (www.wrinm.org). The nonprofit group staffs a booth each year at the Corrales Harvest Festival and takes in more than 2,000 animals annually. They are the first place to call if you find wildlife in trouble: 344-2500.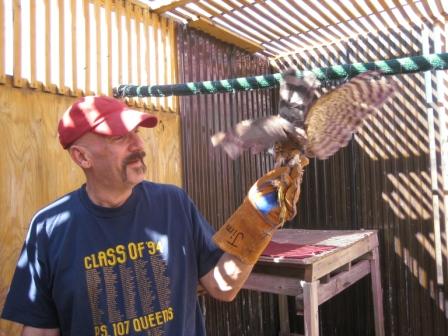 Jim Battaglia (jimbat2@aol.com) is an avian rehabilitator and clinic shift manager who has been volunteering with Wildlife Rescue for more than six years. He specializes in American robins and raptors, and is now a senior handler qualified to conduct education programs. That's why he looks after the clinic's two Swainson's hawks and two American crows, a Great Horned Owl, plus an American kestrel he's training for educational use. "All the work and stress is worth it when you can release a animal back to the wild. There is no feeling like [it] … and you get that feeling every time."


Teresa Hayden (arlohayden@wildblue.net) specializes in rehabilitating small mammals, primarily bunnies and squirrels. A "bunny mama" since she started volunteering at the clinic three years ago, she has a "bunny hospital" built by her husband in a converted shed, where the babies grow until they can be released into the wild. "WRI is the best resource for lost, injured or abandoned wildlife, giving them the best chance of survival. The people I work with are a delight, and the birds and mammals fill me with wonder." Teresa also fosters dogs for the Albuquerque rescue group New Mexico Animal Friends.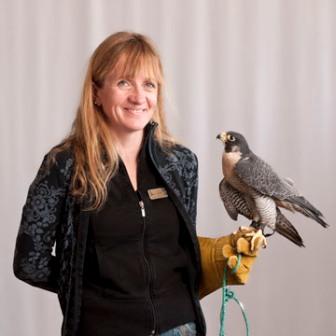 Liz Roberts (eizzil@q.com) is a veteran rehabilitator, having volunteered at the clinic since 2004. She is a clinic shift manager, senior bird handler, and educator who works primarily with raptors, as well as roadrunners and quail. She also does education programs in schools for Hawks Aloft, and cares for two education birds at home, a barn owl and an American kestrel, plus a raven for Hawks Aloft. She credits teamwork at WRI for meeting the needs of all types of wildlife. "Rehabilitating injured wildlife is no bed of roses—sometimes overwhelmingly sad, sometimes incredibly messy, sometimes hilariously funny, but always tremendously worthwhile. Releasing a bird back into the wild, seeing it fly off into the distance is one of the most wonderful, rewarding feelings in the world."


Robert Vargas (ambaone@aol.com) is Wildlife Rescue's treasurer and front office manager. "When Jim and I started, I only wanted to work in the office," he recalls. "But that soon changed when I was asked to take home a baby rabbit. Since then I have rehabbed bunnies, squirrels, gophers, moles, baby raccoons, weasels, and chipmunks. The rewards are being able to help these animals, and then the joy of releasing them."


Ann Zolin (AZolin@salud.unm.edu) has volunteered at the clinic for about six years, and enjoys working with all the animals. "I have always loved animals and respect all life. Helping rehab wildlife is one way I can show this respect."
Ann says she most enjoys seeing animals heal and be released, as well as working with the raptors and educating the public about wildlife. "Actually, I enjoy everything about working with the animals. I think all the volunteers do this from the heart."