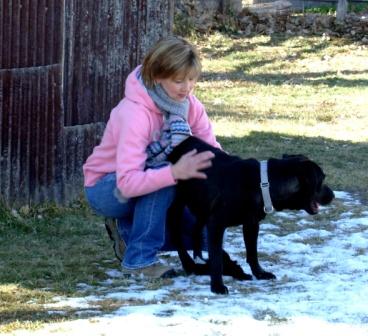 It Takes One to Help One
Giving 'problem' dogs what they most

need for adoption: time and training
When it comes to helping animals, the tendency is to think big. The sheer number of abused, abandoned, injured, lonely, starving dogs and cats and horses in New Mexico is overwhelming to imagine. It seems so hopeless to help just one.
But if you are able to help one, it can make all the difference to that creature's fate. In fact, nothing else really will. That's why the rescue community depends on people like Melinda Helton.
Since last summer, Helton has been coming to Corrales Kennels from her home in Taylor Ranch five days a week to work with troubled dogs, one at a time. Currently that means Ben, a black pit bull mix rescued by New Mexico Dogs Deserve Better and transported from Florida. He quickly proved that he could scale a 6-foot fence, so no foster family would keep him.
Corrales Kennels rents space to local rescue organizations and the Village of Corrales for homeless animals that cannot be placed. Ben, the classic problem child, had been there for months and didn't look like he would be adopted anytime soon. That's because he's a rowdy, black, pit bull mix—three strikes.
When Helton started trying to train him, Ben would just cower, she says, and roll over submissive. At first she just sat in the pen with him as he sniffed and romped. It took weeks to build trust and develop a bond. Then they began to work on basic obedience.
"It just takes time," Helton says of working with untrained dogs. "And that really means coming every day." Some dogs are so excitable, they'll try to scale the fence in the dog run. They don't know how to be walked, and can't be controlled without a prong collar. But everything changes, she says, when you start working with them one on one.
Melinda Helton is not a professional dog trainer. "I often have to ask Dan and Cindy for help," she says of Corrales Kennels owner Dan Meurer and trainer Cindy Fraley, both experienced dog handlers. She did have dogs growing up, but the one that really changed her life was a neighbor dog named Patch.
"I could tell Patch was not an aggressive dog," Helton says of the bully-breed mix with a patch marking one eye. "He was just hungry and scared." She began visiting Corrales Kennels to walk Patch and try to socialize him, and they developed a deep bond. Eventually, "he was adopted out into a wonderful family—a fairy-tale ending for that dog."
Noticing her devotion, Meurer asked if Helton could occasionally walk Bono, a black pit bull mix that had been locked up since July. "So Bono and I kind of bonded," she says. And then came Ben. And then Buster. All pit bull mixes labeled "semi-aggressive."
Watching her work with the dogs in the run at Corrales Kennels, you'd easily mistake the quiet, petite Helton for a teenager playing with the family dog. It comes as a shock to learn that her children are grown and gone, and that her first career as a commercial pilot ended decades ago. Raised near Philadelphia, she has lived 27 years in Albuquerque, and now operates a home-based bookkeeping business. She and her husband live with two dogs and three cats—all rescue animals.
"If you can take one dog and train it, you can get it adopted out," she explains. "Most of these dogs have a bad reputation because they haven't been socialized."
Meurer concurs. The dogs that linger at the kennels are the ones who "have issues" and can't find foster homes. "They're escape artists, or neurotic," he says. That's why Helton works with them one on one, one at a time. It's only time and attention that can turn such dogs around, which truly means the difference for them between life and death.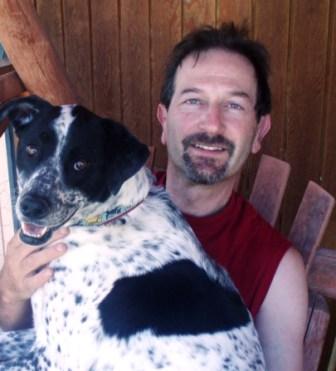 Animal-loving Lawyer's First Novel Explores
Legal Status of Pets
Multi-talented Corrales resident Ed Goodman has often turned his creativity to depicting animals, painting and sculpting them in his spare time—no surprise for a guy who shares his life with six dogs, four turkeys, four chickens, and a parrot.
To his adventures in art and screenwriting (for which he was a finalist in the New Mexico Governor's Screen Writing Competition in 2006), Goodman now adds a stint as novelist with the publication this year of Manzanita Seed (Plain View
Press), his first novel.
Officially launched at a book-signing at Oasis Coffee & Tea in February, the novel follows the struggles of a lonely widower in a town modeled on Bernalillo, who finds love and redemption after rescuing an abandoned dog. Anthony Quintana is then forced to defend his beloved dog Lupe in a complex criminal trial.
The story draws on Goodman's quarter century of experience as a trial lawyer. As an animal-lover, he had become interested in how the law treats companion animals. "They are still legally considered property," he noted.
He modeled the dog in the novel on one that he and partner Ennio Garcia-Miera adopted as a puppy from one of the Albuquerque animal shelters.
As he signs copies of his book and encloses a bookmark with Lupe's paw-print "signature," Goodman notes that it was Lupe who decided proceeds from book sales should go to local animal-rescue groups.
The launch party at Oasis raised money for Second Chance Animal Rescue; a book-signing in February benefited Animal Humane. Upcoming are a reading to benefit Corrales Library (7 p.m. March 22) and a book signing at Bookworks (7
p.m. April 13) to benefit Kindred Spirits Animal Sanctuary near Santa Fe.
Goodman and Garcia-Miera, who has family roots in Bernalillo, moved to Corrales from Massachussetts in 2004. It didn't take long for them to acquire their 15 housemates and become active in Village life. Garcia-Miera now represents
District 1 on the Village Council.
"I thought of it as one more chance," Goodman says of their move west, when he shifted his attention from practical to creative pursuits. "I don't want to say last chance!" he laughs.
Given his track record, there's little chance of that.
Manzanita Seed is available on Amazon. com or from the publisher at plainviewpress.net.
Putting a Face on Corrales
Prominent Personages Human and Equine: Debi Wilcox Paints Them All
It has long been the custom of rulers—whether queens, generals, or patriarchs—to be immortalized in a large oil painting so they can look down on their subjects for all of eternity.
Vanity was not, however, what led to the rendering of Corrales' newly elected pet mayor, Aspen. Corrales portrait painter Debi Wilcox came up with the idea herself, as part of her mission to educate people on the beyond-egotistical reasons for portrait painting.
"We live on the wrong side of the Mississippi," she explains. Out west, "people
are more likely to have their horse painted than their grandchildren." Small wonder if
Wilcox, who has been painting since age 10, gets as many commissions to paint pets as people.
But it also speaks to her uncanny ability to capture personality in paint—human,
equine, or other. In 2010, the organizers of the Corrales Harvest Festival asked her to create the official poster, in which she featured a goat. The painting was auctioned
off as a fundraiser. When she heard about the pet mayor election, Wilcox volunteered
to paint the winner and donate the proceeds to the Kiwanis Club.
When painting humans, Wilcox has them sit for her, in time-honored fashion.
With animals, she has to work from photographs and spend non-painting time with the subject so "I can come away with a feeling for the animal, their nature and personality."
So what can the animal painter tell us about the inner qualities of our equine
mayor?
"This is going to sound weird," says Wilcox, "but she's a healer. She has such a calming, nurturing, intelligent spirit. That's why I went with the blue background."
When Aspen's owner Nancy Freshour came to look at the portrait in process, it
sold without leaving the easel. She told Wilcox, "Clearly, no one wants that picture
as much as I do," then marched to the Kiwanis organizers with her $600 donation.
Freshour had entered Aspen in the race for pet mayor after getting a call from her daughter while vacationing in Colorado. Freshour was puzzled. "I couldn't understand why Corrales would have a race for 'Pet Mare,'" she laughs.
But her 10-year-old Rocky Mountain mare Aspen, one of her four horses (and
clearly her favorite), turned out to have just the right temperament for the job.
Almost unnaturally calm and gentle, Aspen has a special intuition for people's
needs, Freshour says. She is also multi-talented, having cut cows, been a trail packer, marched in parades and drill team, pulled a buggy, competed on trails, and danced at the Corrales Horse Extravaganza.
Aspen is not the only prominent Corraleño whose likeness has been captured
by Wilcox. An Albuquerque native who has lived in the Village since 1994, Wilcox
has manage to convince a number of townsfolk to have themselves elevated to canvas, including Frontier Mart proprietor Jean Waszak, Village Mercantile's Drew Burr, horse team driver "Wild Horse Harry" Touloumis, and gaited horse trainer Fernando De Leon. As well as many a famous horse and dog, of course.
Self-taught, Wilcox painted while she raised children and helped run the family
businesses—a good half dozen of them. Married at 18, Wilcox has shown remarkable perseverance in pursuing her passion while life continuously got in the way.
"People often ask me if it's a natural talent," she says of her hard-earned skills.
"I don't know if it is. But I don't give up."
For more information: www.deborahwilcox.com