Pit Bull Dilemma, and a Rabies Warning
People who know them will tell you that pit bulls are sweet, loyal, enthusiastic, and
fun. They're also the hardest dogs to get adopted, and Corrales has been troubled
by an unusual number of abandoned pit bulls this year.
Because of their poor reputation, pit bulls (and mixes, which is what most of them
end up being) linger in shelters and have a hard time finding foster homes.
"They're high energy and stubborn," says P. "Frosty" Frostenson of Corrales Animal
Control, "though these (we've picked up) have all been good dogs. Most people don't
want them because of issues with homeowners insurance." Some policies will not pay
out on claims involving pit bulls, rottweilers, and other maligned breeds, he says.
Small dogs have also been showing up that are hard to adopt out: a terrier, a Corgi mix
that may be pregnant, a Chihuahua. "They can be difficult because they have a Napoleon
complex," Frosty says. The wire-haired terrier was adept at escape, which he did within
24 hours of being adopted. Second Chance Animal Rescue found a new home for him
with more responsible owners, and he has not tried to escape again.
When bringing home any new dog, "we recommend constant monitoring for the first
few weeks, until the dog establishes his territory," says Frosty, noting that the man who
adopted the terrier had left the dog alone in the backyard the first day.
Last month two Boxer puppies were found in the bosque, only 8 to 10 weeks old. They
were malnourished and smelled of human urine. Animal Control believes they may
have lived in a transient camp. Once cleaned up, they were quickly adopted.
* * * * * * * * * *
Corrales Animal Control reports that the city of Carlsbad, in southeastern New
Mexico, has suffered a rabies outbreak since January. Twelve people are being
treated and 32 dogs have been euthanized. Villagers are reminded to make
sure their animals' rabies vaccinations are up to date, since by law any animal that is
infected must be euthanized unless current on shots. Dogs and livestock that have been
vaccinated can be protected once bitten by a simple booster shot.
Skunks appear to be the source of the Carlsbad outbreak. And while Corrales has not
seen a case of rabies in 50 years, Villagers are reminded to keep their dogs away from
wildlife, whether skunks, raccoons, porcupines, or coyotes. Wildlife is more active in
the spring, and skunks especially have been seen in greater numbers since the start of
restoration work in the bosque, which may be displacing wildlife into populated areas.
Dog owners are reminded that
Corrales has a leash law, and that no dogs should be
off leash in the bosque or on the streets.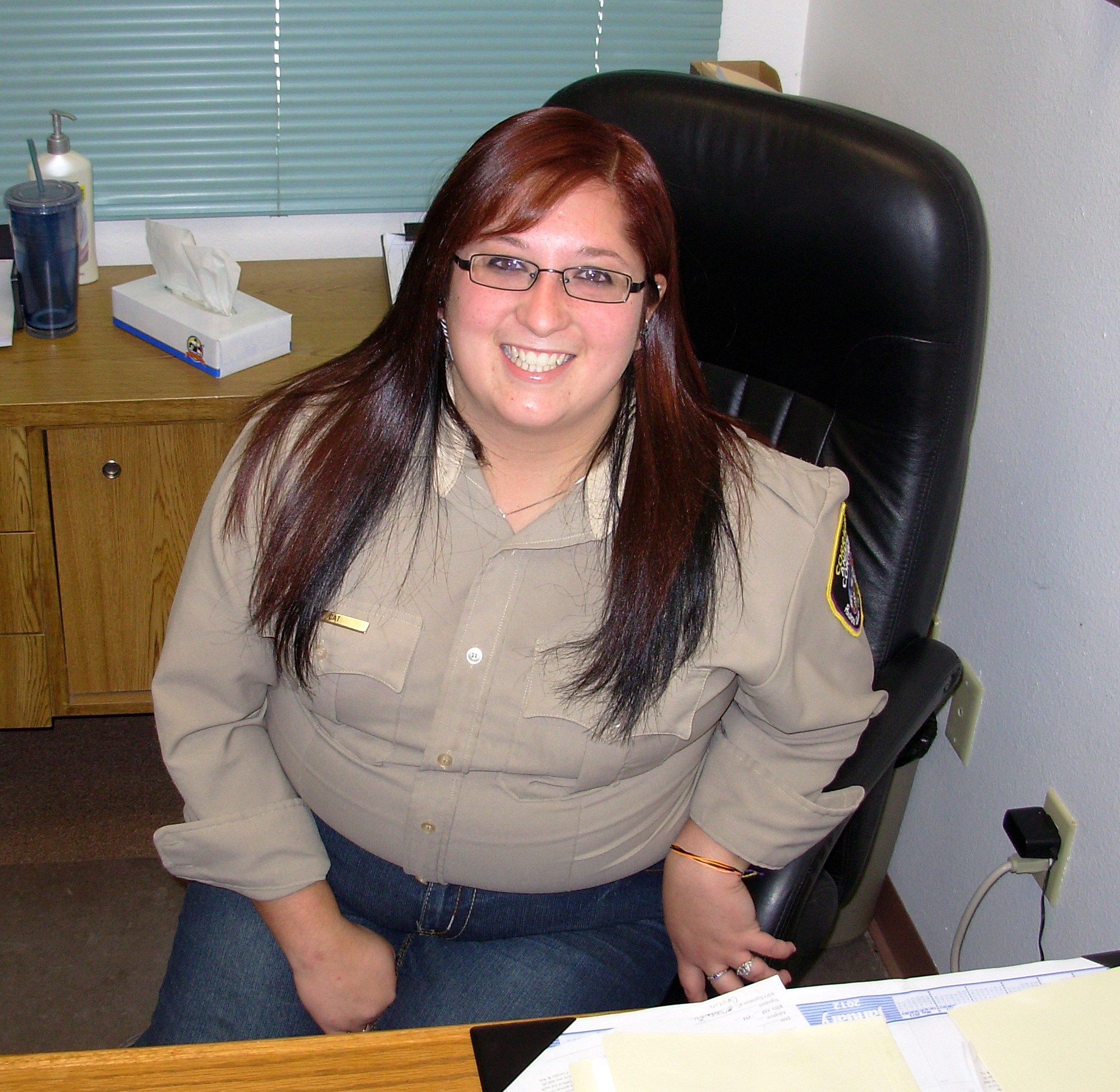 Corrales Animal Control Going Pro

The Village of Corrales now has an animal control officer
with professional training and certification for the
first time in its history. Thanks to a scholarship from
Animal Protection of New Mexico, officer Catherine Garcia
was able to complete a weeklong training with the National
Animal Control Association earlier this year. She now has
NACA 100 Level 2 certification.
The class covered in-depth such topics as crime scene investigation,
search warrants, blood sports, and liability. "It
was an amazing class—I loved it," says Garcia, who joined
the department a little more than a year ago.

Garcia also attended a one-day training on livestock taght by Bea Bell, the state's Livestock
Inspector. Training included use of the Henneke scoring sheet to objectively evaluate
the condition of horses and other livestock, and how to serve warrants on offenders.
Just 24 years old, Garcia came to Corrales from Rio Rancho Animal Control, where she
held a support position. She began by working part-time, and went full-time last year. "I
think this is a good career choice for me," she notes, "because I love the animals." Corrales'
veteran animal control officer P. "Frosty" Frostenson notes that such training programs
have only recently become available, and "it sure beats learning by the seat of your pants."
Garcia continues her professional development with the Western States No-Kill Conference
in Albuquerque on March 24, put on by the nonprofit group New Mexico Pets Alive.
Corrales is also applying for a scholarship to send her to a six-day Equine Academy in
Durango in August, to include 60 hours of instruction on a working ranch—a crash
course on all things equine. Corrales is estimated to have 2,500 to 3,000 equines.
"She's attentive, and she has a passion for learning," says Frosty, who sees training as an
important investment for a Village that strives to lead the pack in animal control.